Get The Quality IT Services You Deserve
Is your technology stopping you working, rather than helping?
Is your IT Support unavailable, or unable to fix your problems when you need them?
Book an appointment. Let IT Genie show you how quality IT support works with you.

Is Your Business Bouncing From One IT Disaster to Another?
With Average IT Support all you experience is 'putting out technology fires', never looking at the root cause or taking proactive steps to stop disasters before they have the chance to stop your business.
IT Genie provide all-inclusive Managed IT Services for a fixed fee, so it is in both our interests to keep your business running smoothly. We make use best in class systems and expert technicians to give the best possible results, dealing with issues before you even know they are there.
Managed IT Services & Cloud Computing
Deliver an entire industry's worth of technology and experience to your business.
Globally Recognised ISO Accredited IT Services
ISO 9001: Quality Management System
Documented System with Continuous Improvement to provide you with quality services
ISO 14001: Environmental Management System
We protect the environment as well as you
ISO 27001: Information Security Management System
Everything we do has Information Security at the heart of our processes
Are you suffering from any of these issues?

"My IT guy never seems to be available, when I need them to solve a critical problem, it always goes to voicemail. They only seem call to advise us of an unforeseen additional cost to their bill."
"Whenever we ask our IT company for a standard change, adding a new user or upgrading a device, we suffer an identical problem to last time. They never seem to learn."
"We need detailed IT status and security reports to make sure we comply with our financial regulations or risk heavy penalties; However, our IT people are only able to provide their invoice."
"Their "all-inclusive" IT support plan, often seems to have more exemption clauses than a used car warranty"
For over 13 years, IT Genie has been solving these issues helping organisations across London & the South of England maximise their success through Technology.
What Our Clients Say About IT Genie
We're proud of our service and we want you to know
upfront what our clients think of us right now.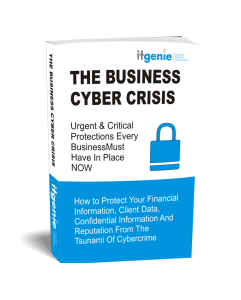 Not ready to call us quite yet?
Receive your guide as to the current Business Cyber Crisis, what every organisation should know about securing their company and data.
This book will give you important questions you should ask your current IT person to make sure that their policies, procedures and service standards won't leave you vulnerable to the growth and sophistication of cybercriminals, ransomware and hacker attacks has reached epic levels. Directors can no longer ignore it or foolishly think "that won't happen to us."
Get the Quality IT Services you deserve
IT Genie are committing to delivering our clients quality service expanding our existing ISO 9001 Quality Management scope, recently adding ISO 14001 Environmental Management and ISO 27001 Information Security Management certification.
Book an appointment. Let IT Genie show you how quality IT support works with you.
Contact IT Genie today to see how we can assist in YOUR success.