At IT Genie we believe that referrals are the greatest possible compliments.
Do you know someone worried about their business IT?
Do them a favour and put them in touch with us. Complete the form below or Ask for more details!
By recommending partners, associates, or professional contacts, you can help them enjoy worry-free IT AND you enjoy some rewards* for yourself.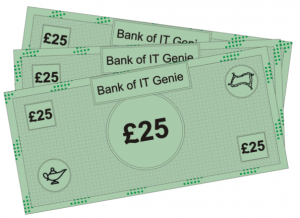 £25 - If your referral attends an IT Discovery call, you will receive a £25 gift voucher of your choice
£250 - When your referral becomes a contracted IT Genie client, we shall 10X to a £250 gift voucher
£2,500 - Super referrers who recommend 5 new clients receive an additional £1,125 gift voucher making an impressive £2,500 total
All rewards may be reallocated as a named donation to the UK registered charity of your choice.
* Referrals must be IT decision makers within businesses of 10+ employees. Maximum one reward per business or referee. Referred business cannot be a current or past IT Genie client. There is no cap on the number of referrals that can be made.