High-speed, reliable connections are vital to business and employee productivity
Connecting people together is key to operations, with nearly every business activity relying on connected devices - particularly with hybrid-working and cloud-based services; Hosted applications like Microsoft 365, cloud Back-Up & Disaster Recovery and modern VoIP telecoms need consistent, reliable connectivity to keep you plugged in.
Is your connection ever unreliable or even 'taken away'?
Making you feel lost and disconnected, not to mention stressed by the dip in productivity.
Computer Connectivity?
Connectivity between computers, directly with network cables or via the Internet has historically been conducted via copper wires and telephone infrastructure exchanges.
Telecoms infrastructure upgrades, moving from entirely copper to fibre-optical connections have vastly improved speeds. Spreading out from exchange connections to roadside cabinets and in some cases specific buildings or residences.
'Consumer' ADSL technology limits speed and reliability of data – with a maximum of around 15-20 Mbps
Fibre to the Cabinet (FTTC) can be to 200 Mbps download
while Fibre to the Premises (FTTP) is available with 900 Mbps download
These 'Superfast' Business connections place the fibre closer to your device and come with enhanced availability and support.
Direct Connection 'internal' communications techniques and standards have improved vastly in-terms of bandwidth and options: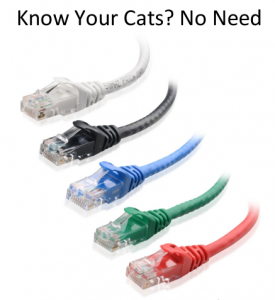 Wired network cables - The latest 'Cat8' cabling offers up to 40Gbps, at a price. We can advise the best solution for you depending on budget, building size & speed requirements.
WiFi - A wireless workplace is convenient for operations, and the latest WiFi6 equipment has improved Gbps speeds and signal.
IT Genie's goal is to ensure you are always connected effectively, no matter where you might be.
What Does This Mean For My Business?
As a business you are limited by your slowest connection point - improving this 'Bottleneck' will have the greatest impact.
Remote offices and workers - we can help with super-fast connections to optimise your work.
Existing leased-line connections - we can upgrade your connection without increasing your costs.
Legacy network - If your network comprises Cat5 cabling, a pre-2020 - firewall, VPNs or WiFi - an infrastructure review will show massive & cost-effective performance & security improvements.
Stay in touch with reliable, feature rich business communication technology.
5 Reasons To Choose IT Genie Connectivity
Experience
We offer a wealth of experience with dedicated connectivity experts . Our experts will recommend the right solutions for your business, future-proofing your needs.
Partnerships
Working as strategic partners with major telecoms providers we are able to provide a full range of business-grade Internet and connectivity solutions.
Cybersecurity specialists
It's imperative to properly secure all your connections, with a quality Firewall, antimalware solution and MFA to protect yourself against cyberthreats.
Remote Access and VPNs
In order to allow employees to work remotely and maintain 'Business Continuity' you will need some Remote Access into your network. We can help you with this!
Convergence
Communications and IT cover a lot of the same ground, so it makes sense to choose a technical partner that covers both fields equally. You'll also get simplified management and billing.
Our company is a leader in connectivity, Contact us today for more information.