Save money and time with all your IT available from 'The Cloud'
Migrating your IT to the cloud gives you the flexibility, reliability and security to ensure your business flourishes – and it is not hard, ask us.
What is the Cloud?
The cloud is 'other people's computers'; Typically public cloud providers, such as Microsoft Azure, Amazon Web Services, or Google Cloud, or private Data Centers offering more bespoke services.
By moving your software, data &/or applications into the cloud, you are able to access it, at any time from any internet enabled device - Work flexibly wherever you are.
With Cloud you only pay for the computing power you use, with no up-front CAPEX & no server maintenance cost. So you can invest more time and money into your business.
IT Genie are experts in delivering cloud computing services
What would my server-less business look like?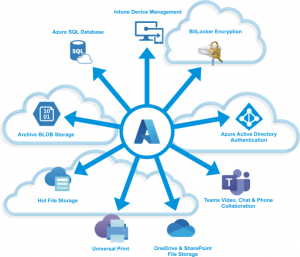 Migrating IT into the cloud is the ideal solution for businesses looking to remain operationally flexible and financially agile.
With no 'one size fits all', we tailor the right balance of Cloud-based services to suit your business, including:
Cloud Productivity – Office 365, file sharing, collaboration and communication tools
Hosted Servers (virtual or physical)
Dedicated file and database instances
Cloud Security, authentication and backup
Hosted Virtual Desktops (DaaS)
& much more
Schedule a Cloud Technology Consultation with us Today!
7 Reasons To Choose 'The Cloud':
Work Remotely From Any Device
With cloud hosting you can access all your applications, documents, emails and processes via any internet enabled device (PC, laptop, smartphone).
Simplify Cash Flow
When your network is in the cloud, you aren't faced with a big, expensive network upgrade every 3 to 4 years. All you pay is a predictable monthly fee for the computing power you use, just like a utility. Move CAPEX to OPEX
Greater flexibility
If you need more users, space or features, you add them. If you need to dial it back, you can do that too. You only pay for what you use, not what you potentially need in the future.
Less Downtime and Fewer Problems
Systems in the cloud runs on powerful and reliable systems that include layers of redundancy, giving greater reliability. If your on-premise server goes down, you can't work until you fix it.
Compliance
Automatically updated to the latest versions, we can offer public or private cloud in geo-regions to suit you, assisting compliance with GDPR, Cyber Essentials, PCI DSS etc.
Environmentally Friendly
Cloud computing uses significantly less power, and results in fewer WEEE disposed devices piling up in landfills.
No Maintenance
Less devices to manage, patch and backup. It's all taken care of for you.