While you are physically aware of your PC and smartphone all of the time; Have you given any thoughts to your how your server is doing lately?
If your server is getting a bit 'long in the tooth' it can cause performance bottlenecks and unsupported software puts your business at a much greater security risk.
Book your FREE Server Migration Consultation with IT Genie
We are currently at a pivotal time in Windows Server positioning:
Server 2012 R2 - End of Extended Support rapidly approaching for 'the Grandaddy'
Server 2016 - about to hit its 'midlife crisis' leaving Mainstream Support next year
Server 2019 - There is still 3 more years of maturity to occur in 'just entering the workforce'
And then there is Microsoft's cloud-platform Azure . . .
more on this later, see A Brave New 'Cloudy' World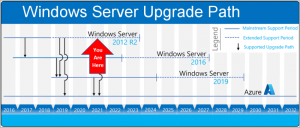 What does all this mean?
Windows Server Operating System versions are measured in 10-year Long-Term Servicing Channel cycles, which consist of five years "Mainstream Support" followed by five years "Extended Support") following the launch:
Mainstream support – includes feature updates to further develop the operating system, along with fixes to improve performance and security.
Extended support – only security fixes are released. The vendor development focus shifted to subsequent operating systems.
Extended support for Windows Server 2012 R2 finishes on 10 October 2023
You might be thinking "2023 is ages away", and you are right - it seems a long way off, but will come around sooner than you know.
Windows 2012 Server "End of Life" - is only 568 working days away as of today. 
By this you must have planned, budgeted, approved and finished implementation of any migration - is this included in your strategic IT roadmap?
Do you even have a roadmap, and if not, how can you effectively plan, budget, and implement the transition?
By having an approved plan the budget is already in place, and approval is a formality.
IT Genie are on hand to assist you with your IT roadmap - talk to your account manager.
If you continue running any End-of-life operating system, you're exposing your business and your data to potential breaches. Hackers wait patiently, at which point they unleash attacks on these unprotected systems knowing they will not be as protected.
I am on Server 2012, what should I do?
There are several well-trodden paths for you to follow, each of which come with their own potential benefits and pitfalls:
Action
Recommended
Pros
Cons
The Ostrich - carry on with Server 2012 R2 on your current hardware

X

Investment - Cheap (free) & easy
No Support – Microsoft no longer offer tech support with End-of-Life OS

No Security updates - Cybercriminals actively target outdated systems

No compliance – With multiple regulations including ISO 27001 & Cyber Essentials

Poor productivity - Aged hardware reduces efficiency, and has higher incidence rate of hardware failure.

The tinkerer - Install a newer OS on your existing server

X

Investment - Minimal cost & fairly easy

Supported - Support & security updates available

Poorer productivity - Aged server running hungrier OS could seriously impact business

Hardware risk – Older servers have increased hardware failure rates - especially with the added load of a new OS

Reinstall problems – Every rebuild comes with a risk of critical failure and extensive internal resource usage

The Déjà vu -

Migration to Exchange 2016 on a newer server

?

Supported - Support & security updates available . . . for a while
Investment - Cheaper than a 2019 server, but still significant CAPEX

Stopgap – Server 2016 'mainstream support' ends in 2022, so you will soon be starting this whole progress once again

The New Shiny - Migration to Exchange 2019 on a new server

✔

Future proof - Support & security updates available until 2029
Investment – Potentially large CAPEX investment for brand new 'shiny' server

Maintenance – Server still requires support, power, cooling etc

The Cloud -Migration to Azure

✔

A brave new 'Cloudy' world – see section below for full benefits
Mindset change – Moving business infrastructure operations to the cloud may require slight operational changes, but Azure is a mature and trusted technology.
So realistically you have two choices:
1) The New Shiny
Upgrading to a new server running the latest Server Operating System may prove to be the most familiar option to all involved, and IT Genie are on hand to advise the options and assist with migration to make the whole transition seamless.
We partner with experts to offer technology rental agreements*, to help take the sting out of upgrade costs.
For expert advice about your Server Migration book your free consultation Click Here or call us today on 0345 0945 353
2) A Brave New 'Cloudy' World
Migrating your server functions into the cloud with Microsoft Azure, can be the ideal solution for businesses looking to remain operationally flexible and financially agile.
By hosting your server, data and applications off-site, you free yourself from having to purchase, install, maintain and power your own in-house computer network. That way you're not required to buy a new server and operating system every 3 to 5 years to keep everything updated; All you need is an Internet connection and a browser, and your cloud provider does the rest.
Here are 7 reasons why "cloud computing" has caught on FAST with more and more businesses, and why you might consider it too:
Work Remotely From Any Device. By hosting your server and even workstations in the cloud, you can access key applications, documents, email and processes via a web browser, freeing you to work remotely from whatever device (PC, laptop, tablet, smartphone) you're using to access them. All you need is an Internet connection.
Simplify Cash Flow. When your network is in the cloud, you aren't faced with a big, expensive network upgrade every 3 to 4 years. All you pay is a monthly fee for the computing power you use, just like a utility. Move CAPEX to OPEX.
Greater flexibility. If you need more users, space or features, you add them. If you need to dial it back, you can do that too because you're paying a monthly service fee, not for the maximum amount of physical hardware and software licenses that you potentially need.
Less Downtime and Fewer Problems. Systems in the cloud runs on powerful and reliable systems that include layers of redundancy, giving greater reliability. If your on-premise server goes down, you're unable to work; until you get it fixed.
Compliance. Cloud-systems are automatically updated and patched to the latest versions, and we can offer public or private cloud options in regions to suit you, assisting compliance with GDPR, Cyber Essentials and PCI DSS amongst others.
Environmentally Friendly. Cloud computing uses significantly less power in your office. You also won't have to upgrade your hardware as often, which means fewer PCs, laptops and other components piling up in landfills.
Reduced Maintenance. When your software is running in the cloud, you have less devices to manage, patches are automatically applied, and redundancy built in. It's all taken care of for you.
Book your FREE Server Migration Consultation with IT Genie now or call us on 0345 0945 353
Remember it is not just your Windows Server operating systems going End-of-Life that is of concern, you need to check your Windows & MacOS endpoints and mobile devices to ensure they are still receiving support and security updates. If you are still running Windows 8 or earlier, these devices are a security risk.