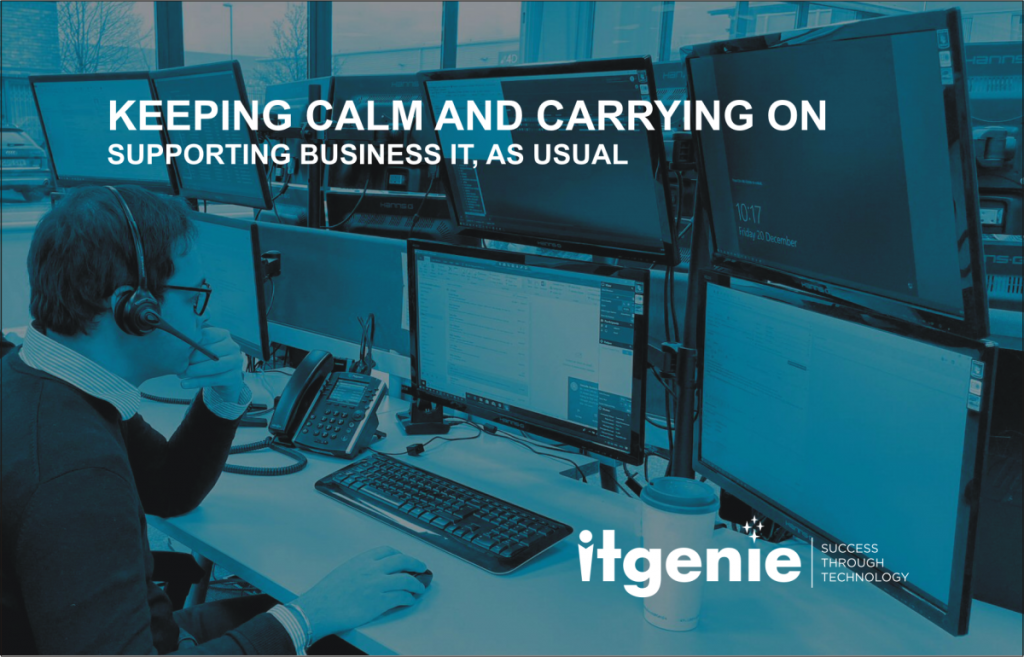 We wanted to let you know that IT Genie remain on hand supporting all client's IT throughout this and all other Government Restrictions.
Support & Service
Our UK-based Service desk is fully available, providing our ISO accredited support to all clients.
Following this week's government announcement, we expect a 'busier than usual' call volume again, so please be patient with us in these difficult times.
If your IT team need additional support or equipment to enable your employees to work SECURELY from home or SAFELY from the office, then please ask.
Give your staff the right equipment to work remotely successfully.
As was the case during previous lockdowns, the majority of IT Genie staff are working remotely, with a select group office-based – on a rotating basis, socially distanced and 'bubbled' – for hardware builds and project work.
Should a site visit be required, subject to a successful risk analysis and compliance with government protection regulations, this can be arranged. However, where possible we will deliver hardware pre-configured and ready to 'plug-and-work' and talk you through setup.
We are not letting a lockdown interrupt our normal business of providing rapid effective Service Desk support and delivering IT projects on time – Quality Service Matters.
IT Review
Should you wish to review any aspect of your IT services, then request a remote call with us, to assess and discuss your options, and ensure you have optimal secure, safe and productive remote working capabilities – book now https://itgenie.com/free-consultation/
With the right technology and infrastructure in place, your productivity need not suffer. We want to help your business survive and thrive, which is why we are offering you this preventative meeting.
Contact Us
To discuss any aspect of your IT requirements please get back to me, email info@itgenie.com, or call 0345 0945 3535.
Our UK service desk is fully available, providing ISO accredited support to all our clients by email servicedesk@itgenie.com or phone 0845 0945 333.
Stay Safe At Home