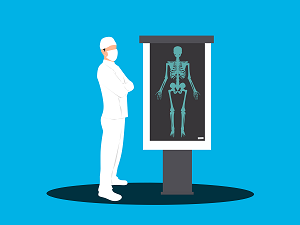 Whatever your home imaging needs, replicate your work radiology set-up at home and diagnose with confidence
The Royal College of Radiologists (RCR) are advising all radiology departments to provide remote staff with a fully functioning home working environment.
In March 2020, RCR endorsed a temporary relaxation of home reporting guidance, to avoid a collapse of UK radiology services. This temporary use of 'off the shelf' uncalibrated monitors and remote access using 'lossy' compression, was one of many compromises were made to patient care during this period, no longer acceptable.
Since home working guidance and funding has been provided, the RCR now recommend hospitals facilitate appropriately specified home working systems for their radiologists.
Talk to IT Genie on 0345 0945 353 or BOOK A MEETING to discuss your Radiology Image Reading requirements.
A Fully Functioning Home Working Environment
The NHS has been looking to transform imaging services in England allowing for more flexible working, something only hastened by the current situation. The recommendation to work from home wherever possible minimizes the risk of cross-infection between patients and healthcare professionals, to ensure availability of vital service delivery.
Extending diagnostic reading outside the workplace requires the same level of performance, quality, and security applied in onsite reading rooms. However, successfully replicating your hospital radiology reading set-up, at home is now easier than ever
Medical Displays
Display consistency and quality is key to radiology productivity.
Whether you are occasionally providing out-of-hours cover from home, or remotely working full or part time; Your home working setup should ideally reflect your preferred equipment and workflow processes available in the hospital reading room.
A single large diagnostic display (30"+) gives greater flexibility when reviewing a wide selection of image types (grayscale / color, 2D / 3D, static / dynamic, workflow / Individual).

Arrange images across the entire screen real-estate, have a single large image, or can act as dual 2x3MP display with no bezel.

Have confidence that the tiniest detail is not overlooked.
For radiologists requiring predominantly side-by-side diagnostic comparisons, this best dual-head (or more) display setup may be preferred.

The multiple display setup requires less image manipulation with high brightness & contrast ratio for greater DICOM JNDs.

Improve workflow and make more confident diagnoses.
Processing capability
Driving your displays, manipulating images, and applying visual effects to aid diagnosis is normally conducted by powerful medical imaging workstations, and is well beyond the capabilities of most computers.

IT Genie can provide fully certified desktops or laptops with external graphics (eGFX) enclosures, depending on your preference and requirements; Capable of replicating the high-end image quality and workflows of hospital reading environments, at home.
"Just Dock It" - connect to your laptop to the eGFX Display setup using just a Thunderbolt 3 connection.
Connectivity & Security
When you are processing a high volume of heavy files such as medical imagery exams, nothing is more annoying than your Internet connection saying 'no', or having to make arrangements with other house occupants, taking turns to stream video or download files.
Your connection should allow fast transfers (100Mbps @ 10:1) enabling workflow processes (PACS, Sharepoint etc.) without interruption for optimal diagnosis performance and confidence.
In order to protect sensitive information a secure VPN tunnel or private file storage (such as Sharepoint) is needed, which even 'fast' home broadband will struggle to maintain, reducing your effectiveness.
All remote workers should be equipped with private email, videoconferencing and messaging solutions, as standard.
True to their vile nature hackers have taken the opportunity to target the healthcare industry and their remote workers, and will continue to do so - Security solutions such as encryption and antivirus are required.
Ergonomics
Ergonomics and productivity are closely related.
Now home working is becoming more established, you need to take a broader look at the entire workspace you are working from. Is the chair you are sitting in adjusted to your posture, does your desk position your keyboard and screen at the right height?
Working on a laptop without dedicated peripherals (keyboard, mouse, headset & camera), and incorrect desk and chair setup can lead you to become your own patient in short time.
IT Genie are able to assist with all aspects of remote working to maximise your productivity and comfort.
Contact IT Genie on 0345 0945 353, Book a Meeting, or email sales@itgenie.com to discuss your Radiology imaging requirements.